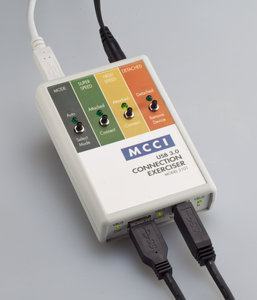 MCCI® USB 3.0 Connection Exerciser
Regular price
$ 743.75
$ 0.00
A single button push connects or disconnects your device from the host.

Push-button or computer control (Scripting support for Windows, OS X, Linux)

Tests low speed, full speed, high speed and SuperSpeed devices and hosts.

No drivers required on control PC

An impedance controlled, low loss USB data path.

The Exerciser is transparent when in the connected state.
Tired of manually plugging/unplugging USB devices to test or debug driver load/unload problems? Are you wearing out the connectors on your development PC? Is your prototype so fragile that plugging and unplugging risks damaging the unit? Want to run connect/disconnect tests overnight? The MCCI® USB 3.0 Connection Exerciser Model 2101 automatically connects and disconnects a USB 2.0 or 3.0 host and device under push-button or software control. Connections can be single-stepped or repeated. The manual modes are useful for debugging attach/detach scenarios. QA teams find the automatic repeat modes useful for regression tests. Developers find it useful for limiting stress on prototypes, and reducing wear on development PC's connectors and cables. It's an ideal tool for finding and debugging connect or disconnect bugs in host drivers and devices. Simply connect your host and device to the connection exerciser, supply power, and you're ready to test. A single button push will connect or disconnect your device. Select "auto" mode to automatically repeat enumeration testing. Connect USB 3.0 Super Speed devices in high-speed mode to test backwards compatibility. Use a test control computer to automatically vary the test cycle time. Contents: Model 2101 Connection Exerciser, international power supply, USB 3.0 patch cables, USB 2.0 cable for remote control, USB flash drive with manual and application software.
We regret that due to supply chain disruptions, we are forced to raise prices as of October 23. Further price adjustments may be required in order to ensure product supply.
Product Warranty
MCCI warrants to the original end user ("original purchaser") of the product listed above that the product will be free from defects in materials and workmanship for a period of 45 days from the date of shipment of the product to the original purchaser. This limited warranty only applies to the original purchaser and is not transferable. In the event of a warranty claim under the limited warranty, the purchaser must provide MCCI with verifiable serial number identification of the product. Cables and other accessories are not covered by this warranty.
If the product proves defective during the applicable warranty period, MCCI, at its option, either will repair the defective product without charge for parts and labor, or will provide a replacement of an equivalent product (as determined by MCCI) in exchange for the defective product. Parts, modules and replacement products used by MCCI for warranty work may be new or reconditioned to like new performance. All replaced parts, modules and products become the property of MCCI.
As used hereafter, "Customer" refers to the person or entity asserting rights under this warranty. In order to obtain service under this warranty, Customer must notify MCCI of the defect before the expiration of the applicable warranty period and make suitable arrangements for the performance of service. Customer shall be responsible for packaging and shipping the defective product to the service center designated by MCCI, shipping charges prepaid and with Return Merchandise Authorization (RMA) number provided by MCCI clearly displayed. MCCI shall pay for the return of the product to Customer if the shipment is to a location within the country in which the MCCI service center is located. Customer shall be responsible for paying all shipping charges, duties, taxes, and any other charges for products returned to all other locations.
This warranty shall not apply to any defect, failure or damage caused by accident, ordinary wear and tear of mechanical components, use outside of the product's specifications, improper use or improper or inadequate maintenance and care. MCCI shall not be obligated to furnish service under this warranty a) to repair damage resulting from attempts by personnel other than MCCI representatives to install, repair or service the product; b) to repair damage resulting from improper use or connection to incompatible equipment; c) to repair any damage or malfunction caused by the use of non-MCCI supplies; or d) to service a product that has been modified or integrated with other products when the effect of such modification or integration increases the time or difficulty of servicing the product.
THIS WARRANTY IS GIVEN BY MCCI WITH RESPECT TO THE PRODUCT IN LIEU OF ANY OTHER WARRANTIES, EXPRESS OR IMPLIED. MCCI AND ITS VENDORS DISCLAIM ANY IMPLIED WARRANTIES OF MERCHANTABILITY OR FITNESS FOR A PARTICULAR PURPOSE. MCCI RESPONSIBILITY TO REPAIR OR REPLACE DEFECTIVE PRODUCTS IS THE SOLE AND EXCLUSIVE REMEDY PROVIDED TO THE CUSTOMER FOR BREACH OF THIS WARRANTY. MCCI AND ITS VENDORS WILL NOT BE LIABLE FOR ANY INDIRECT, SPECIAL, INCIDENTAL, OR CONSEQUENTIAL DAMAGES IRRESPECTIVE OF WHETHER MCCI OR THE VENDOR HAS ADVANCE NOTICE OF THE POSSIBILITY OF SUCH DAMAGES.
---
Share this Product
---
More from this collection